When he signed up for his first campus, football was but a pass-time. Today, Adrián Dalmau plays in the Eredivisie.
Adrián Dalmau started playing football by chance. When he was seven years old, he opened his mailbox one morning to find a brochure for a football course and decided to give it a go out of pure curiosity. He enjoyed it and before long, football was one of the things he'd most look forward to every week. At the age of twelve, Adrián began to enroll in Marcet's courses. First, the 2006 Academies' World Cup of Football. Soon after, several intensive courses in Barcelona and a series of training experiences abroad: Germany, Bulgaria, Ireland…
Born in Mallorca, Adrián had to move from his homeland to further develop his abilities as a footballer. After his time at Marcet, he wore Real Madrid's and Rayo Vallecano's colours as a Juvenil player. From there, he began to climb up the category ladder until he reached second division leagues playing for teams such as Numancia . Each year he'd change clubs, and then in the 2016-17 season he was able to return home after joining Mallorca. However, he wouldn't stay long because his career was about to take off.
After Mallorca came Villarreal B, followed by a jump to the Dutch First Division with Heracles. "The adaptation process has been good," said the striker in an interview with Radio Marca. "I appreciate the coach's trust, he seems to be giving me opportunities. I feel very comfortable because both the club and the city have welcomed me very well."
Adrián played every minute of his debut game. It was against Ajax. A first step in the right direction, managing to come away from the match with a draw. "Today I fulfilled the dream I had when I was a child: to debut in the First Division of professional football. A very hard road that has been worth it for living this moment in a unique setting. You can't really ask for more," said Adrián, who scored two goals in the following four Eredivisie games.
"The Dutch league is competitive and ideal for strikers," the Mallorcan explains. "Teams tend to press very high and leave more space behind. I'm fast, and it seems to be working. There's a spectacular atmosphere at the Heracles stadium. It's always full, the stands are very close to the grass and the crowd gets stuck in from the get-go. The fans are very warm, it's a very nice environment, very special ".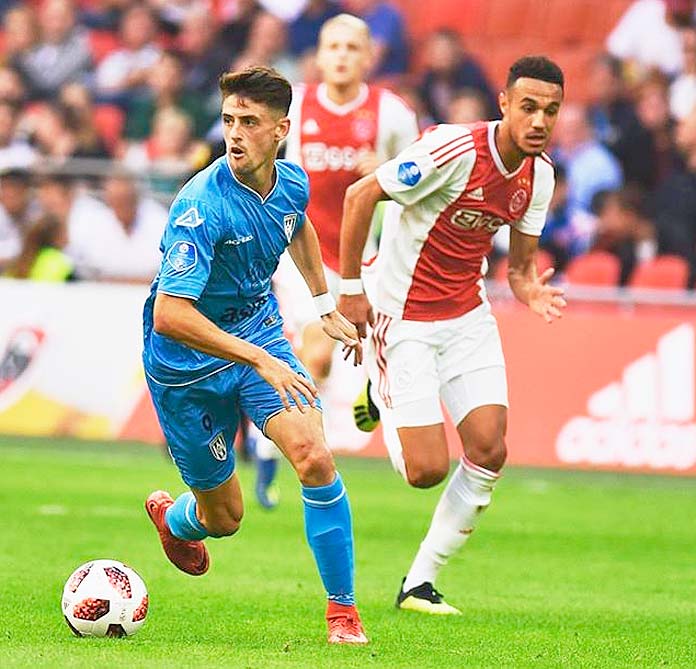 His 19 goals for Heracles made other Dutch teams take notice of the Spanish striker. "Adrian Dalmau aced his first season in the Eredivisie," stated the 'Marca' newspaper, who labelled the Mallorcan player as the 'revelation striker' in Dutch competition. With his help Heracles made it to the play-offs of the Europa League. Although the team did not manage to get their ticket for the continental competition, Adrián did by signing for Utrecht, who paid 2.15 million euros for his services.
After two and a half years with the red and white team, in December 2021 Adrián signed with Sparta Rotterdam. The start could not have been better, since the Spanish striker scored in his first game with his new club. Adrián now has got 28 goals in the Eredivisie and he is just 11 goals away from reaching Fran Sol as the second top Spanish scorer in the history of the Dutch First Division. A task more than ever within the reach of that boy from Mallorca who started playing football by chance.