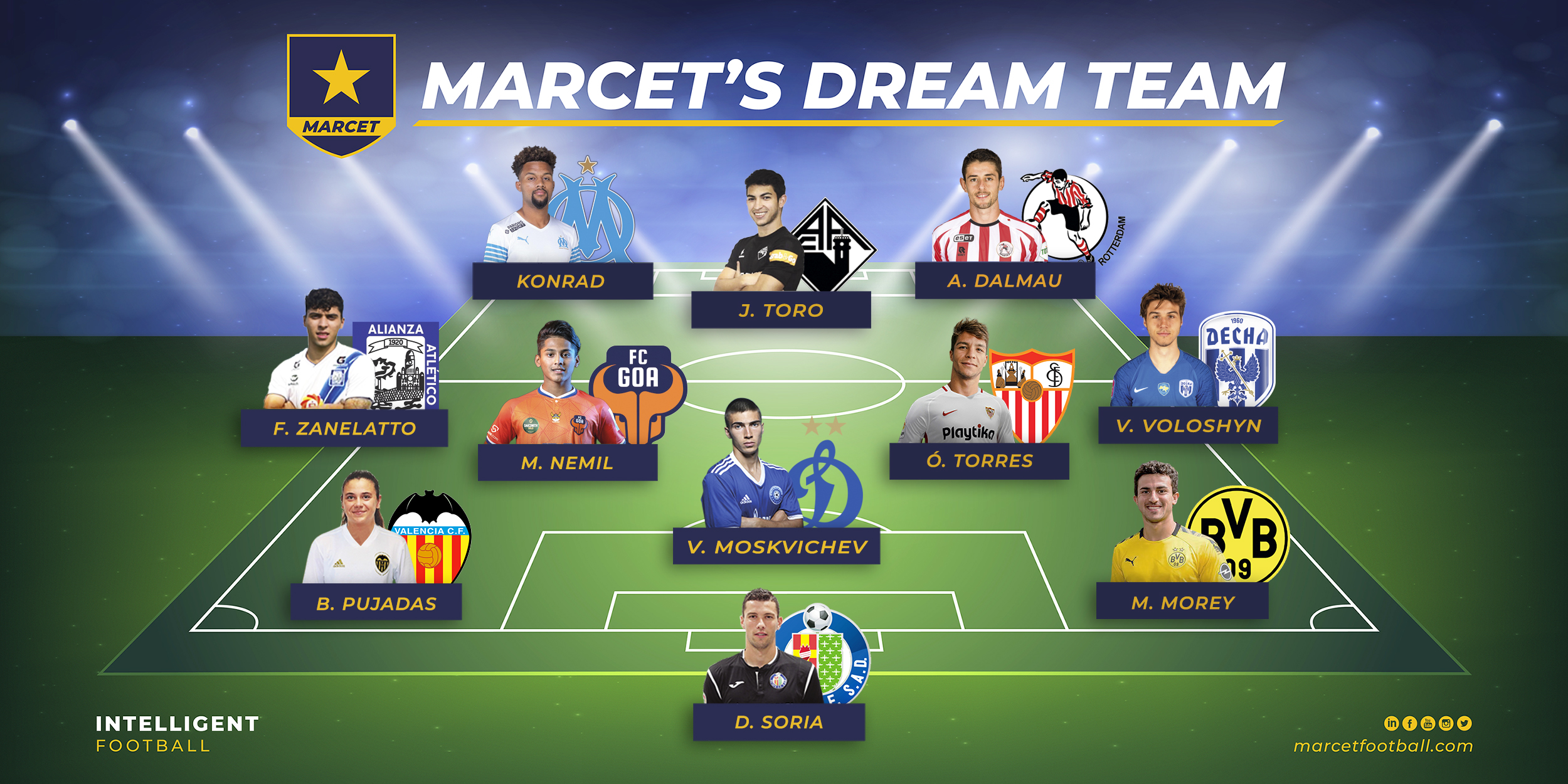 The most outstanding young players to have passed through our football Academy sum up a value of over 28 million euros.
Spain, France, Germany, Portugal, Russia… Each year the number of young atheletes passing through our academy grows as they gain a foothold in the world's most prestigious leagues. The best among them assemble Marcet's Eleven Pro, which brings together the 11 most outstanding players who have spent time and developed themselves as athletes at our football school. A combination of skill that would prove itself a hard nut to crack for any team and to which the website Transfermarkt attributes a value of more than 28 million euros.
Óliver Torres would undoubtedly be the captain of this virtual team. First of all due to his accumulated experience, since the player from Extremadura was the first Marcet recruit to make his debut in the First Division. In recent years he has played in teams such as Sevilla, Oporto, Atlético Madrid and Villarreal. He has also played several times in the Champions League and has been proclaimed champion of both the Spanish and Portuguese leagues. The midfielder also won the Eurocup with the Spanish U-19 National Team and his value currently stands at around 9 million euros. A great example of success for millions of young people who dream of reaching professional football.
If Óliver is the brain of the Marcet Eleven Pro, the spearhead of this 3-4-3 is an attack composed by players coming from three different countries. Together they are worth more than 7 million euros and have been showing their capacity for scoring goals over the last few seasons. The oldest of them is Adrián Dalmau, a striker from Córdoba who knows what it means to step onto the top pitches. His 19 goals with Heracles in the 2018-19 season earned him his signing with Utrecht and Sparta Rotterdam, two Eredivisie team. At 27, Ádrián will undoubtedly continue to grow and will surprise us again in the future.
Los otros dos delanteros son Konrad de la Fuente y Jonathan Toro, dos jóvenes cracks que acudieron a Academia de Alto Rendimiento Marcet en distintos momentos de sus carreras deportivas. El delantero estadounidense se apuntó a un curso intensivo de verano nada más llegar de Florida, cuando aún era un niño. Tras un año en Marcet, a Konrad se le abrieron las puertas del Barça, de la Selección de EEUU y finalmente del Olympique de Marsella, donde este año está teniendo un papel de protagonista.
The other two strikers are Konrad de la Fuente and Jonathan Toro, two young stars who attended Marcet's High Performance Academy at different times during their sporting careers. The American striker signed up for an intensive summer course as soon as he arrived from Florida, when he was still a child. After a year at Marcet, the doors of Barça, the US National Team and finally Olympique de Marseille were opened to Konrad.
Jonathan arrived in Barcelona at the end of 2012, when he was 15. Thanks to the Professional Program, this striker from San Pedro Sula received the call for the Honduran National Team and began an international tour that led him to wear the shirt of important clubs such as Sion, Gil Vicente, Huesca, Varzim and Académica de Coimbra.
An international team

In addition to the mentioned Óliver, the center of the field of Marcet's Eleven Pro is complemented by Franco Zanelatto, Muhammed Nemil y Vikentii Voloshyn. The first, from Paraguay, has just signed for Alianza Lima, who left him on loan for a season to Alianza Atlético Sullana, another club in the Peruvian top tournament. On the other hand, Nemil and Voloshyn have found a team in their own countries. The first in the Indian Super League, where he wears the jersey of FC Goa, a team with which he made his debut by winning the Durand Cup and scoring four goals in this competion.
Another Marcet student who knows what it's like to score goals at the highest level is Voloshyn, this year on loan to Desna after being signed by Dinamo Kiev. At 20 years old, this young midfielder has been playing for the junior categories of the Ukrainian National Team and is a regular starter in the First Division of Ukraine, a tournament in which he has scored 2 goals so far this season.
In the rear we have Vladimir Moskvichev, whose market value stands above 500.000 euros. The centre back, who participated in Marcet's intensive High Performance courses, signed for Dynamo Moscow, a team from the Russian First Division. He is accompanied by Mateu Morey, who plays for Borussia Dortmund, and Berta Pujadas, who was proclaimed subchampion of the world with the Spanish U20 National Team. The defender plays for Valencia in the First Division and also played for Espanyol, as well as for Barça's lower team, who in the past tried to re-sign her.
David Soria completes Marcet's Eleven Pro. The goalkeeper has just started his fourth year with Getafe after various seasons with Sevilla, a team with which he played an important role in winning a Europa League. His value now stands at 7 million euros. Who would have said a decade ago, when the keeper coincided with Óliver Torres at Marcet. Destiny then separated these two stars, now brought together once more in this virtual eleven.
Of course, talent is not restricted to age, and the younger generations also deserve a mention. For this reason, we also compiled Marcet's Eleven Promises, reserved for footballers who have reached the ranks of top teams but who do not yet hold a market value. This is a difficult combination to select, due to the large number of U14's and U16's from our football academy who today sport the colours of some of the best European clubs.
The team includes Daniel Kochen and Juan David Fuentes, of Barça; Ferran Ruiz and David González, of Real Madrid; Alex Ginard and Alejandro Cova, of Atlético Madrid; Rafa Bauza, ofEspanyol; Valentin Yotov, of Bayern Múnich; Ronald Bocs, of Hoffenheim; Mikhail Shakhkalamov of Spartak de Moscú; and Omar Ocampos, of Tigres. One thing they all have in common is that at a certain moment of their football training, they trusted Marcet to help them progress and try to make the seemingly impossible leap to a great club. Our Hall of Fame gives an account of their personal stories and how they came to turn their dreams into a reality.