Easter football course in Barcelona
Come to Barcelona and join the best Academy to help footballers to go pro.
Take advantage of New Technologies

Implementing the use of New Technologies has been one of Marcet's major ventures for years. Using state-of-the-art equipment in training sessions is a fundamental requirement when it comes to learning football intelligently. More and more of the players choose to receive specific New Technologies updates during their stay in Barcelona. These are personalized training programs, in which the teacher and trainer 'feedback' is constant.
⇓If you have already decided … Sign up here!⇓
Easter High Technification (2009-2016)
635,00€ – 1.715,00€
Marcet: Intensive football camp in Barcelona in Easter
Specific courses depending on the level and age of each player.
The Master program has a duration of 7 days (from April 11 to 17).
The Technique program has a duration of 5 days (from April 11 to 15).
⇓ Hundreds of Marcet players have come to play in First Division!
Easter is an ideal time to improve by establishing clear and personalised objectives.
Each aspiring player is unique and has their own particular starting point. During our Easter courses, a team of evaluators exclusively dedicated to this task will be responsible for monitoring each and every player enrolled, establishing personal objectives for them regarding short, medium and long term development. These goals will be established through the a system of objective rubrics that mark the player in a range of different aspects. Then the educational process has to be adapted to the player's necessities thanks to a roadmap that lays out concrete, achievable and personalized goals. The attendees are divided into different groups according to their age.
Forja
,
High Intensity
and
High Performance
. The first group is for kids between the ages of
3-5
; the second group is for kids between
6-13
; and the High Performance courses are for players between the ages of
14-21
.
If you are 6 to 13 years old SIGN UP HERE!
The aim of High Intensity courses is to understand concepts on collective technique and comprehend tactical movements in the unravelling of a match, which allows players to focus on improving their vision, to think quicker and make better decisions.
The main technical learning objectives of the High Intensity course is to improve on the following aspects of the game: control, dribbling, passing, on the ball control and shooting (with their wrong foot as well), also heading, attacking technique, defensive technique and football intelligence.
The evolution experienced by our students goes beyond sports. "You come here looking for football, but once you're here you find something else," explains Pablo Álvarez Pincay, who has been taking his children to Marcet's intensives for years. "Here they've learned to live together and have matured in so many different aspects of their lives. It's a very enriching experience", he claims in a conversation with another student's father in the following video: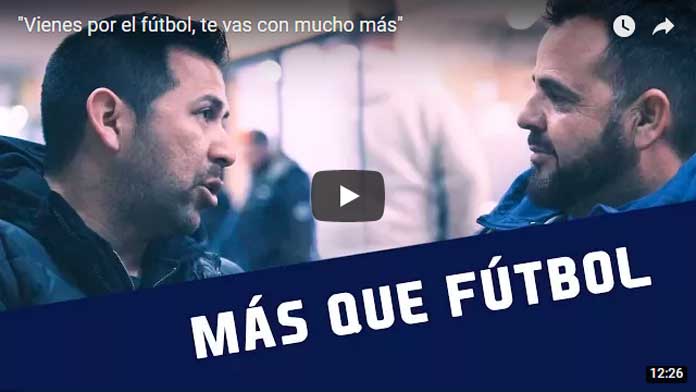 Rubén Martí knows what these parents are talking about. He has been at Marcet for more than 20 years and is currently coordinator of the High Technification courses. In the following video he goes through his day to day at the camp and tells the importance of teaching values and developing the trainees not only as footballers, but as people:
"When you're working with so many people, there are many fronts that have to be covered: attending to family members, children with specific problems, coaches, teams that come to take part in the Academies' World Cup of Football…There's definitely a certain degree of satisfaction in seeing the sum of challenges and problems solved and the kids learning and happy. It's then that you feel like the work you have done has been worthwhile."
The World Cup mentioned by Rubén Martí coincides with the busiest period of the year at Marcet. It's an authentic football party involving teams from all over the globe. There's a vibe to the whole thing that really gets the students going and definitely serves as a motivational stimulus to their progress: the perfect excuse to take everything they have learned and put it into practice in such a diverse competitive platform.
Francisco Gutiérrez, coach of a subsidiary at Atlético de Madrid, tells of his team's experience at last year's World Cup: "For the boys, going to this tournament is a treat. They show this amazing enthusiasm and really enjoy the opportunity of competing with children from around the planet, who evidently play another type of football... After all, leaving their comfort zone is what makes them grow".
But there is no one way to experience these intensive courses. Each student has their own priorities and their own personal objectives. Like Adrián Melero, Pablo Melero and Jaime Barral, three under-10s from Real Madrid CF who came last year with their minds set on "improving technically" and "learning to make long passes" in the face of their imminent debut in 11-a-side, competitive football. Not to mention maintaining a sense of competitivity and the right mindset during the vacations required by a team like Madrid's.
TIMETABLE
09:00h Training Session 1
10:30h Snack
11:00h Training Session 2
12:30h Technique Circuit
13:30h Technique evaluation
14:30h Lunch
15:15h Video Training
16:00h Training Session 3
17:00h Instructional Match
18:00h Shower & afternoon Snack
18:30h Sightseeing
20:30h Dinner
21:30h Free time
22:00h Return to dorms
23:00h Lights out
If you are 14 to 21 years old SIGN UP HERE!
Students from the ages of 14 follow a program oriented towards professional football and are individually cited to check up on their evolution in a personalised way. "It's an opportunity to learn new things," explains goalkeeper Alfonso Aragón, who last year signed up for Desafío Barcelona. "Here you see football in a completely different way. It's an experience that opens your mind, and in the end that's the most important thing. The pace of the course is close to being full-time professional and there are activities throughout the whole day: technical-tactical training, physical sessions, training in the beach, in the pool, sports psychology... "
Alfonso took the course as an opportunity to get in good shape for his team's pre-season with SD Huesca. Others, like the American striker Antonio Puerta, come to Barcelona to enjoy a training experience that they can't find back home: "Every year I go back because when I leave I feel I'm a better player than when I arrived. It's very hard work and very fun at the same time".
There are also students who see eye to eye with both Alfonso and Antonio's situations. This is the case of Maël Caisson, who has spent his entire life in the ranks of a prestigious club like AS Monaco FC. For him, the Marcet courses are a fundamental resource on the road to footballing excellence. "My teammates prefer to rest during vacations, but I'm ambitious and want to become a professional. I have come to Marcet because in France there is nothing like it. I found many campuses that offer 10 to 15 hours of training a week. But here I was guaranteed 40".
"I expected intense training, but what I've seen has gone beyond my expectations," says Ernest Addi, who took his son to Marcet to understand if he really had the qualifications to become a professional football player. Crossing the pond with him: "I wanted to see it with my eyes, I wanted to see if I liked it or not, if it was good for him. And what I've seen, I've liked".
To accommodate the large number of activities that take place during the High Performance courses, the schedule works on an alternate day basis (A-B-A-B, etc.):
TIMETABLE A
07:00h Wake Up
07:30h Snack
08:00h Technical-tactical Session
09:00h Physical Session
09:15h Shower
09:30h Breakfast
11:00h Training session and Sports Psychology
13:00h Technical-tactical Session
14:00h Shower
14:15h Lunch
15:00h Leisure Activity
18:00h Technical-tactical Session
19:00h Physical Session
19:15h Shower
20:00h Dinner
21:00h Free Time
22:00h Return to dorms
23:00h Lights out
TIMETABLE B
07:00h Wake Up
07:30h Snack
08:00h Technical-tactical Session
09:00h Break
09:15h Shower
09:30h Breakfast
10:00h Training session
11:00h Break
11:15h Training session
12:45h Shower
13:00h Lunch
13:45h Siesta
16:00h Sports Psychology
17:30h Individual Technique
18:00h Technical-tactical Session
19:00h Physical Session
19:15h Shower
20:00h Dinner
21:00h Free Time
22:00h Return to Dorms
23:00h Lights out.
If you are 3 to 5 years old SIGN UP HERE!
The Marcet Plan is the only course in Spain to develop a comprehensive early stimulation education program that is focused on improving football technique. It's objective is to develop all of a child's potential so that, when they start full training after the age of 6, they are completely ready to start practicing at the highest level possible.
The importance of cerebral stimulation under the ages of 6 is fundamental for the learning process later on. In other words, the more and better stimulation given to a child's brain in their learning period, the quicker and more complete their neurological organisation will be, and consequentially, they'll obtain higher capabilities in the sport.
The Forja Program is run by a team of specialists that include pedagogues, neurologists, psychologists, as well as sport coaches. Their goals are to procure a correct neurological organisation and therefor prevent possible deficiencies in motor functions, reinforcing all development with their general movement: crawling, cross-pattern walking, rhythmic steps and jumps, tumbling, swinging and swimming practice. It comes down to providing an environment full of incentives for the infants that will allow them to set up their locomotor in a way for them to reach maximum potential.
TIMETABLE
09:00h Start game
09:00h Snack
10:20h Flashcards
11:00h Technical skills video
11:20h Rules
11:40h Revision in names and dimensions
12:00h Live individual technique programs
12:20h Matches adapted for ages
13:30h Lunch
14:30h Siesta
16:00h Neuromotor exercises
16:20h Match
16:40h Shower
17:00h Afternoon Snack
Level Requirements
It's important not to confuse Marcet's
High Intensity Courses
and the
High Performance Courses
with other football camps that held over Spain and other countries that only have intentions of keeping kids busy during the holiday period. They are camps that don't have any educational methodology behind them and most of the time they rely on a badge of a huge club for marketing reasons. During these courses the kids can—with luck— take some photos with famous players, visit legendary stadiums, stroll around beautiful cities, but won't at all get the chance to learn football or progress technically neither tactically, and even less on collective concepts. For this reason it's important for parents as well as players to be know that the intensity and, physical and mental demands of Marcet's courses are extremely high.

This doesn't mean that Marcet's scholars won't have fun whilst learning. Everyday they experiment and take on a large number of concepts, abilities and techniques to fully embrace progression. Despite the heavy workload of each day, they always look forward for the next day because they know that each minute that passes they are improving as footballers and as people. This is the secret behind why more than 30 of
Marcet
's students join top tier clubs around
Spain
and
Europe
each year.
Organisational Details
During this first day attendees have arrive at seven o'clock in the morning for the coaching staffs presentation and setting up of the initial groups. Then a series of tests are held to evaluate the exact level of each player and place them into the most adequate group for the course. The coach will take advantage of this initial test to spot parts of their game where they should work on most.

On the first day, the official players pack will be handed out to each scholar, this includes a
training shirt
,
leisure shirt
,
shorts
and
socks
. Every player should bring their own boots, preferably multi-studed, due to to all the pitches being of the latest generation of artificial grass.
It's better not bring brand new boots during courses, as they tend to cause blisters
. After completing the course, Marcet's coaching staff will give every single player their personal evaluation for them to determine future possibilities for each player.
Dorms
The dorms service—with 24 hour 7 days a week supervision— is optional for players that don't live in
Barcelona
. The scholars that use the dorms service will receive an extra uniform and will be able to enjoy a series of leisurely activities outside of training hours like go-karting, laser tag and sightseeing.
The standard accommodation is minimum of 4 persons per room
. Depending on their availability and the influx of players, the service will be adapted to multiple rooms with bunkbeds for 8 or more players. However, if a family would like their child to stay in a superior accommodation (rooms for two to three scholars) they can have the service with a daily surcharge on the price of the course + dorm (limited offer). There is also the possibility of an optional service of being picked up and returned to the airport, train station or bus station for those scholars that will travel alone. This is an individualised service and will be done by an employee of
Marcet
. In the event of needing to extend the stay at the accommodation—before the course as well as after—due to plane or train dates and times, it's possible to reserve a few more nights in the dorms.