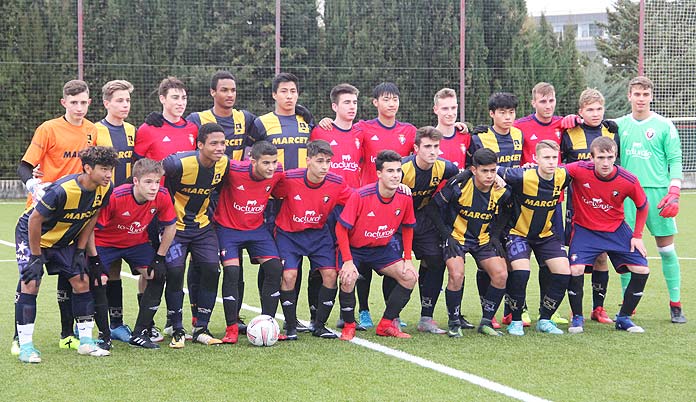 The 2017-18 season offered Marcet players a healthy diet of competition, pitching them up against the likes of Real Madrid, Atletico Madrid, Villarreal, Montpellier…
Without competition, there would be no football. The football match is the moment that justifies and brings together the week's blood, sweat and tears. Competing is imperative to distinguished educational platforms like Marcet's High-Performance Academy. Keeping an eye out for quality rivals is part of our academy's process. Federated leagues simply aren't enough. It's important to keep the bar high because only by facing great teams do our students receive the necessary stimuli to be able to progress. Learning is the objective, and competition at its highest level is the means to achieving it.
The 2017-18 season offered Marcet's players a first-class c0mpetitive experience, bringing some of the best teams in Europe to the table. The course started strong. In late September our U-9s participated in the Tres Cantos Cup, one of the best tournaments in the country, where they played Real Madrid. Playing a game against the homegrown players of the European championship was nothing short of a dream come true for many of them.
Meanwhile, the U-18s were preparing for France, where they would play three games in three days. A 12-hour coach ride, Alsace's unforgiving cold and first-rate rivals – Strasbourg, Dijon and Mulhouse – demanded the utmost effort and dedication on behalf of Marcet's finest, especially concerning their physical and psychological recovery. One of the objectives of this type of expedition is developing an appropriate sports culture, making players aware of the importance of physical care and recovery.
Aranda de Duero would stage a similar challenge in December, where every player at the Academy over the age of fourteen would go. The six teams that participated in the expedition met with Atlético Madrid, Osasuna, Getafe, Rayo Vallecano, Cultural Leonesa… A stay that would foster camaraderie among Marcet's students, who lived together for a week at the Castilian-Leonese city's general headquarters. From there they moved to Madrid, Ávila, Valladolid and Pamplona to play more matches.
The lower category teams also left Barcelona on different occasions to participate in tournaments or play friendly matches. Most recently, our students went to France to face Montpellier, a historic first division club, and also took part in the Primer Toque championship, where they played Osasuna, Rayo Vallecano and Zaragoza. Matches that offered an essential, intense dose of competition and presented the opportunity to showcase skill in the presence of the opposing teams' scouts.
As is tradition, the Easter holidays held a handful of the year's most prestigious tournaments. Marcet's teams took part in the Oviedo Cup, the Marina d'Or Cup and the MIC, where they faced the likes of Atlético Madrid, Deportivo La Coruña, Alavés and Valladolid. The purpose of the expedition was to participate in a demanding, high-level championship to test everything they had learned in the previous months of training. A very positive experience that allowed the Academy's students to improve by means of competition and take a step towards their dream of becoming professional footballers.
While their teammates were in Oviedo and Marina d'Or, the U-18 A-team were put through their paces by teams from all over the world at the MIC, where they also had the opportunity to see eye-to-eye with Sevilla. The demands of this tournament forced Marcet's students to give it their all on the pitch. A magnificent opportunity to learn to overcome all kinds of difficulties in the interest of their individual and collective sporting evolution.
The 2017-18 season has been a long one. Other than the expeditions and tournaments mentioned, our teams were able to play Barcelona, Villarreal, Mallorca, Real Zaragoza, Castellón, Espanyol, Levante, Girona, Albacete, Numancia, Nàstic… As well as teams from France, Portugal, Denmark, Germany, England, Lebanon, Israel, Japan, Malaysia, Pakistan, Peru or Argentina. Competitive experiences that make for an exhaustive, uncompromised training process seeing Marcet players earn themselves a foothold in our Hall of Fame.