El Levante UD ficha para cuatro temporadas a Israel González, central zurdo con unas características que le hacen ser diferente a la mayoría de los defensas.
It was a typical afternoon at Marcet's Academy. Israel was training with the U-16s A team and whilst they were having a tactical lesson the "gaffa" received a phone call. Israel's father was bearing good news: Levante UD wanted to take him on for a week of trials. The centre back couldn't hide his smile as he knew that this opportunity would leave a mark on his career at such an early stage.
"I was so happy that day", Israel recalls. "I headed down to Valencia and trained for 3 days with the Levante's U-16s A and B teams, I then had to wait a week for them to confirm my signing. In august I will start to train with them". And everything points to him staying there for a few years, as Levante wanted to tie down Marcet's centre back on a four year deal. Something that is not very common at his age.
Israel González Rodríguez is only 13 years old and has everything going for him to turn his dreams into a reality, becoming a professional footballer. Not only will he receive financial compensation for wearing their colours every Sunday, but because his attributes will turn him into one of the most sought-after profiles by scouts all over the globe. "He is a very intelligent footballer thanks to his reading of the game", Arnau Basagaña points out, Israel's coach at Marcet: "He's able to play centre back as well as left back. His left foot and strength make him much different to the rest. It really adds to your game in any position on the pitch".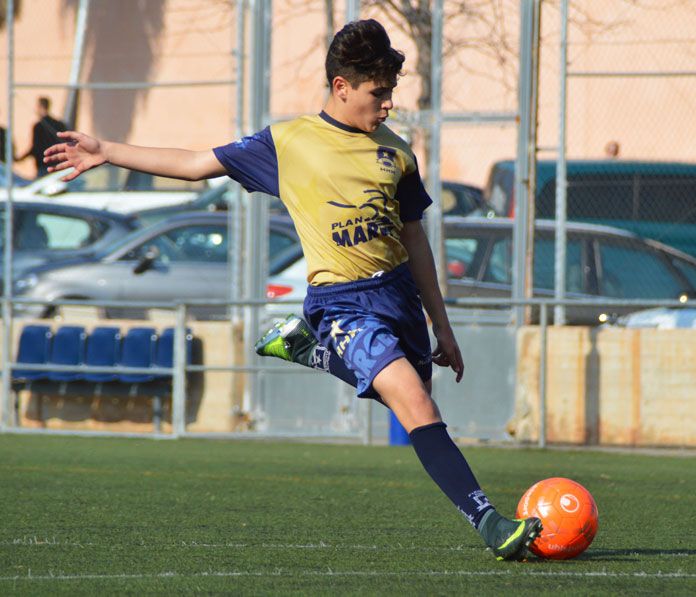 It hasn't always been like this though. When he was younger, Israel got the chance to play in the colours Valencia CF for two years. However the experience didn't end well for the centre back and he ended up going to Alboraya UD. It wasn't his best spell but young Israel didn't throw in the towel. On the contrary, he decided that he had to dedicate himself even more to his passion, football. He decided to sign up for the Professional Program at Marcet's High Performance Academy. "My family and I thought it was a different route and it deserved the chance, to see how it worked out. I moved to Barcelona and until now everything has gone really well".
A 'wonder player'
So much so that Israel today is a "wonder" player. His coach Arnau has highlighted the excellent progression he has made since his arrival at Marcet. "He's especially improved in his decision making, in being an intelligent player. Also his individual technique. He has made huge steps with these aspects and today he's good at playing the ball off the ground and has great peripheral vision. He became a key player towards the end of the season and has become a stern centre back".
"There are a lot of training sessions here, so you can improve immensely", Israel explains. "There are sessions for each specific aspect and if you take advantage of every one of them you can improve a lot. At Marcet there is a very high intensity, more than other clubs I've been at. Here, we get up and start training at 7.00 in the morning. At 8.45 we start class and in the afternoon we have another training session. Every day is like this. In the beginning it's difficult to get used to, but in then end you get accustomed to it and enjoy it".
During his two years in Barcelona, Israel hasn't focused on anything else except adapting to a professional footballers lifestyle. Something that will be very useful when he starts getting kitted out in Levante colours. "It's a very good team that has been in the first division for a lot of seasons. They have a very good youth academy and it's a great opportunity for Israel", Arnau comments. "I'm sure he'll do good, because he's a player that adds a lot. And for him, as a personal experience, it will be unforgettable".