Compromise and motivation
Renné Rivas has been ascending through the ranks throughout his whole life. The call from his National Team validated this progression.
Renné grew up watching football on television. He was the youngest of three brothers and they played constantly. The age difference only served to egg him on. Motivation and hard work allowed him to compete with them without their physical differences ever becoming too obvious. These two characteristics have accompanied the Venezuelan defender throughout his sporting career, the latest stage being with the 'Vinotinto' National Team.
The year 2012 was key for Renné Alejandro Rivas Alezones. This was when he first decided to sign up for a football academy. He came to Spain to train at Marcet, where he trained in the High Intensive course and took part in the Academies' World Cup of Football. "Barcelona was on a whole other level in what is demanded of you", remembers the left-back, who can also play as a centre-back. "We would train for hours and hours and most of these sessions were highly personalized. It was here I formed the base of my abilities".
"IN BARCELONA I realized that I had to work harder and feel more responsibility towards my football"
"Sharing a locker room with players from all over the world made me grow. I realized that I had to work harder and from that moment I have been more committed and feel more responsibility towards my football. This was so much so that when I returned to Venezuela, the training hours didn't seem sufficient".
On return to his country, Renné managed to get into the ranks of Mineros de Guayana, the best team from the region where his family reside. Together with this club he participated in the Elite Series, the most important formative football tournament in Venezuela. He played in the 2001-2002 category, despite being two years younger. Not long after, in another tournament, he was proclaimed champion of Venezuela while playing for his home state. A few years later he received the call from the prestigious Caracas FC, where he was called up to play three pre-seasons with the first team.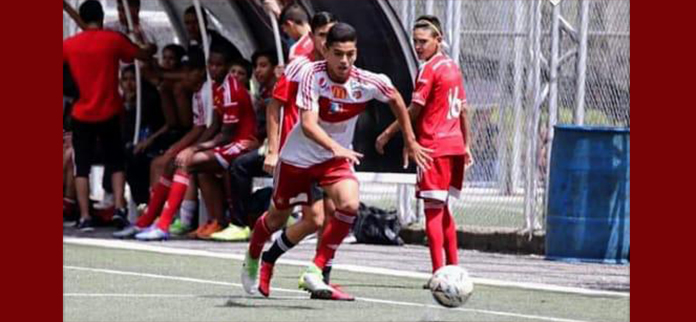 Today Renné plays for the second team of the Venezuelan capital club. Quite a triumph for a boy of sixteen years of age who has just been called-up for the National Team. "I took part in three campaigns for the national U17 side and travelled to Europe to compete in the a U16 international championship held in Prague. When I found out they were counting on me, I spent the whole day thanking God for this blessing".
In Prague, Renné played against the USA, Hungary and Czech Republic, the host team. He was in the starting line-up for every match and even scored a goal by penalty. "I have to keep training in order to get into the first team. My dream is to sign for a Spanish club, although for now I have to concentrate on my studies and learn a foreign language because that is essential for my footballing career. This is a very comprehensive profession".