Danil Ankudinov makes it into the Kazakhstan National Team after making some audacious decisions.
The first time Danil Ankudinov contacted Marcet, he impersonated his father. He called the Academy from Tenerife, where he had been living with his mother and sister for four years. On the island he discovered football and dreamed of making the leap to the Peninsula to become a professional player. And, since his father travelled continuously between Kazakhstan and Spain, he decided to take the initiative to request information about the Professional Programme.
Back then Danil was 14 years old and what he did was more the result of his desire to improve than a hoax to his parents. In fact, his family never hesitate to support him when it comes to football. So much so, they even allowed him to stay in Spain to pursue his dream. It happened when Danil was eight years old and travelled to Tenerife for holidays. The plan was for the whole family to return to Kazakhstan at the end of the summer, but that never happened.
"In Tenerife I discovered football and didn't want to leave it behind," recalls Danil. The striker was a Taekwondo champion back then and at the end of the summer he found himself at an important crossroads. "I had five days left to return to Kazakhstan, and my father asked me if I wanted to stay in Tenerife. Without an ounce of hesitation, I answered yes. I had improved a lot in a few weeks and did not want to leave football."
Five months later, his father asked him the same question again and Danil gave him the same answer. The boy had even been summoned by the Spanish Taekwondo Team, but decided to turn the page and dedicate himself to football. "At the beginning it was complicated in Tenerife, because I did not know the language, I had no friends… There were nights when I was very sad. The only thing that connected me with other children was football."
A few years later, Danil was advised to make the leap to the Peninsula. The Marcet High Performance Academy was his gateway. Before, it was an intensive Easter week course, with participation in the Oviedo Cup included. Then, he enrolled in the Professional Programme for the 2018-19 season.
"What surprised me most is how positive everyone is at Marcet, always open and always willing to help you," explains the Kazakh striker. "I thought that the adaptation process was going to be as complicated as in Tenerife, but here it was super fast. Within the first few days I was very comfortable. And when you adapt quickly, you also play better."
"IN KAZAKHSTAN the streets were full of people who took pictures of us and even asked me for autographs"
It was at the end of that first season at Marcet that Danil received the best gift football has ever given him. "One day, I was at home playing on my PlayStation, and my father approached me. He told me that he had some good news, but I was wearing headphones and hardly heard him… He told me then that the U-17 National Team of Kazakhstan had summoned me. At that time I was the happiest person in the world. "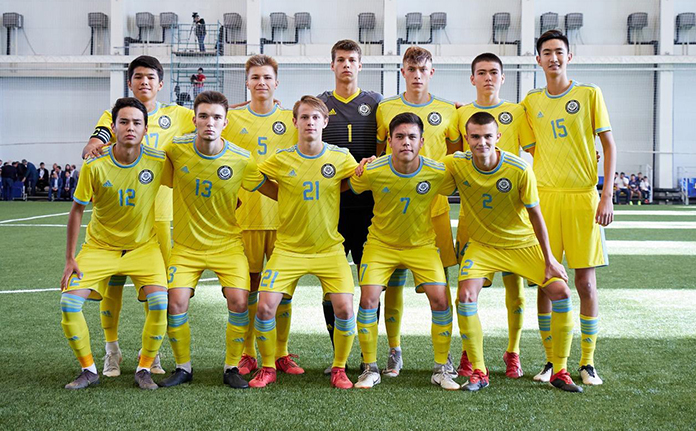 "I felt like a professional footballer. The Kazakh Federation paid for my flights and sent me the plane ticket. When I landed, an escort was waiting for me and they took me to one of the best hotels in the capital. Whenever we had to train, the streets were full of people who took pictures of us and even asked me for autographs. It was amazing, I don't know how to explain it. It's something you can't buy with money. You can only earn it by training hard."
Then Danil did not know that a couple of years later he would reach the top level of European football. In January 2022, the Kazakh striker signed for the FC Sheriff's first team, a club that a few months earlier had managed to defeat Real Madrid in the Champions League. To get so far, this time Dani didn't even had to pretend to be his father. All the football connoisseurs now know his name.